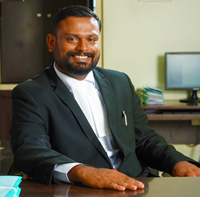 Advocate B.Surjith, who is hailing from strong legal background, is associating with our firm from 2014 onwards. He opted legal studies as a passion after graduating in Economics. In our firm he is handling with Criminal and family disputes both in Trial courts and High Courts. Mr.Surjith also takes care of matters before Permanent Lok Adalat, Consumer Courts and various Tribunals including Local Self Government Appellate Tribunal.

Apart from that he used to render his service in Public Interest litigations and other kind of Writ Petitions. Adv.Surjith He also makes him available for the Kerala State Legal Services Authority, for aiding the poor who are in need of Legal assistance. He further participates as a member in Adalats organized by the Kerala State Legal Services Authority.

Adv.Surjith drafts various agreements and contracts which includes, contract for labour, Work Contracts, Rent Agreement, Lease agreement, business agreements etc. His attitude of using Mediation and Conciliation methods from the initial as well as final stages ensures better and speedy results for our clients.
As per the rules setout by The Bar Council of India, soliciting and advertising by lawyers are prohibited.This website contains only general information about M.B.Sandeep Associates and the Information at this site should not be construed to be formal legal advice nor formation of lawyer /client relationship.