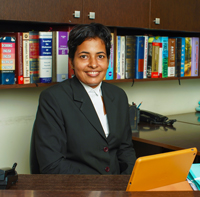 Advocate Sherin Varghese enrolled with Bar Council of Kerala in the year 2010. Thereafter she associated with a firm named 'A.R Bejoy Associates' at Perumbavoor and handled both Civil and Criminal Cases. During her practice in Perumabvoor she made a remarkable presence before Motor Accidents Claims Tribunal. Mrs Sherin is an expert in handling Negotiable Instrument cases and she appeared for many business entities. Her patience to hear the clients and ability to understand their exact grievances and advice them on the best available remedy is always appreciated during her practice.

After grabbing considerable experience with Trial court she shifted her practice to High Court of Kerala at Ernakulam and she joined our Firm. Her vast knowledge in handling civil disputes is an asset to our firm. She is handling the Civil Side of our firm including the matters before Debt Recovery Tribunals. She further extend her service in matters relating to Motor Accident Claims and Negotiable Instruments.
As per the rules setout by The Bar Council of India, soliciting and advertising by lawyers are prohibited.This website contains only general information about M.B.Sandeep Associates and the Information at this site should not be construed to be formal legal advice nor formation of lawyer /client relationship.