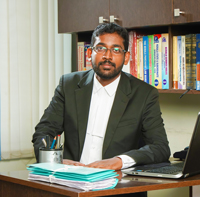 Advocate Kirankumar is an associate of our firm and his area of expertise includes Criminal, Family and Civil matters. He is a regular face before the Hon'ble High Court of Kerala and District courts in Ernakulam. His Court Craft and logical analysis is admired by everyone.

The main strength of Adv.KiranKumar is that he always conduct researches to find the latest positions of each and every case and argue for our client on the basis of the same. His capacity to find out the merits of the case and the maximum relief which each and every client should expect at the end is mostly welcomed by all our clients.
As per the rules setout by The Bar Council of India, soliciting and advertising by lawyers are prohibited.This website contains only general information about M.B.Sandeep Associates and the Information at this site should not be construed to be formal legal advice nor formation of lawyer /client relationship.